Nutritional Counseling for New Milford
Regain control of your health and your family's health too!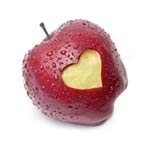 You have taken your physical health to a new level with chiropractic care. Now our Food Counselor will help you take your health to an even higher level using food and nutrition.
Our Food Counselor, Hillary Stern helps people pick, plan and prepare delicious foods for a healthier life! It's not as difficult as it may seem. Using some very easy methods, she will help you bridge the gap between what you know you should be doing, or what your doctor tells you that you need to do, and your kitchen.
She will help to ease the transition between knowing where to start and creating healthy eating habits for life! And all with a minimum of grumbling from your family… even from the picky ones!
Sound interesting? Please contact our New Milford chiropractic office to make an appointment today for a courtesy consultation with our excellent Food Counselor